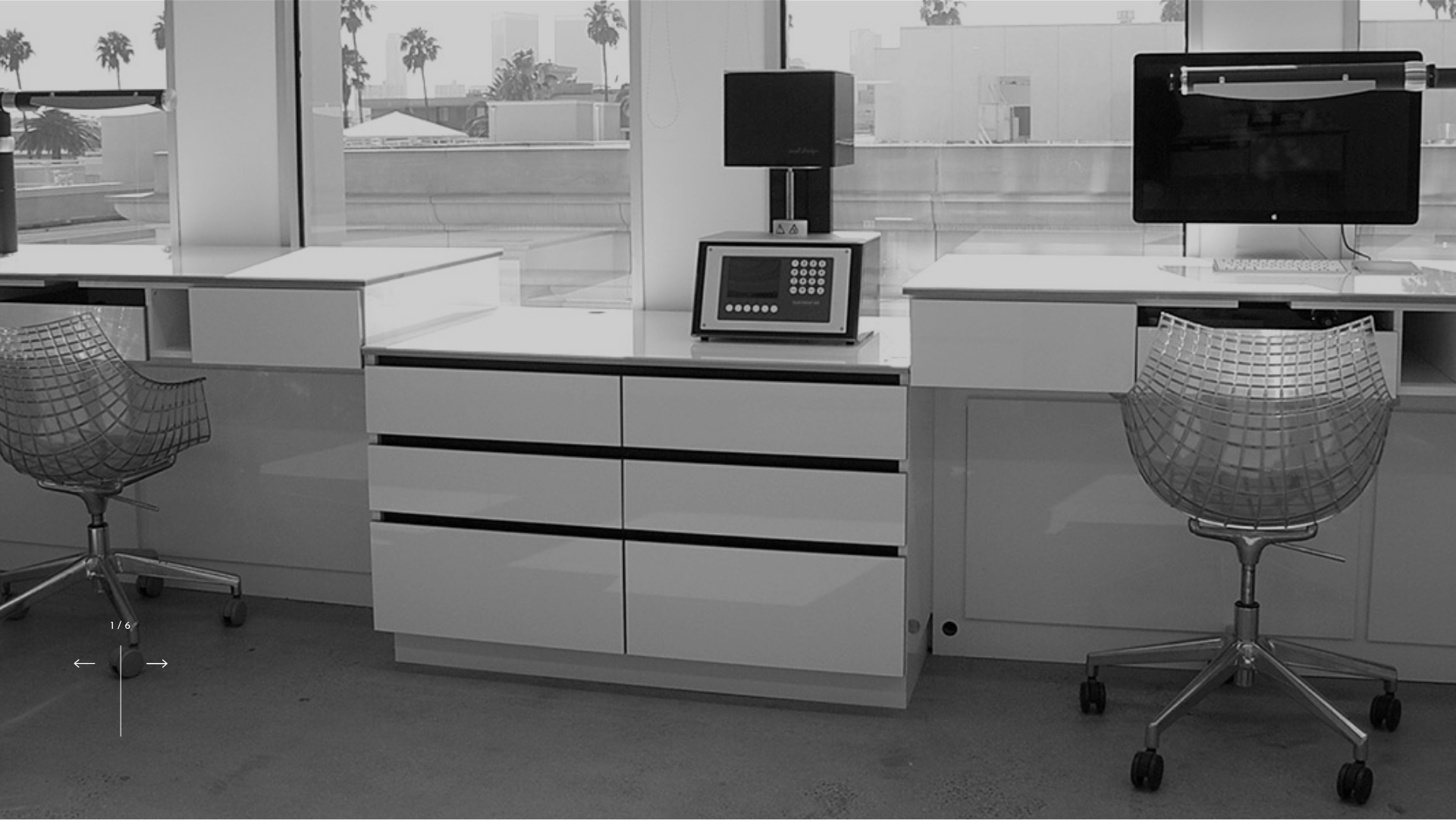 Design geometries. The characteristic 45° junction, which connects the horizontal and vertical parts, gives the structure an extremely essential aesthetic.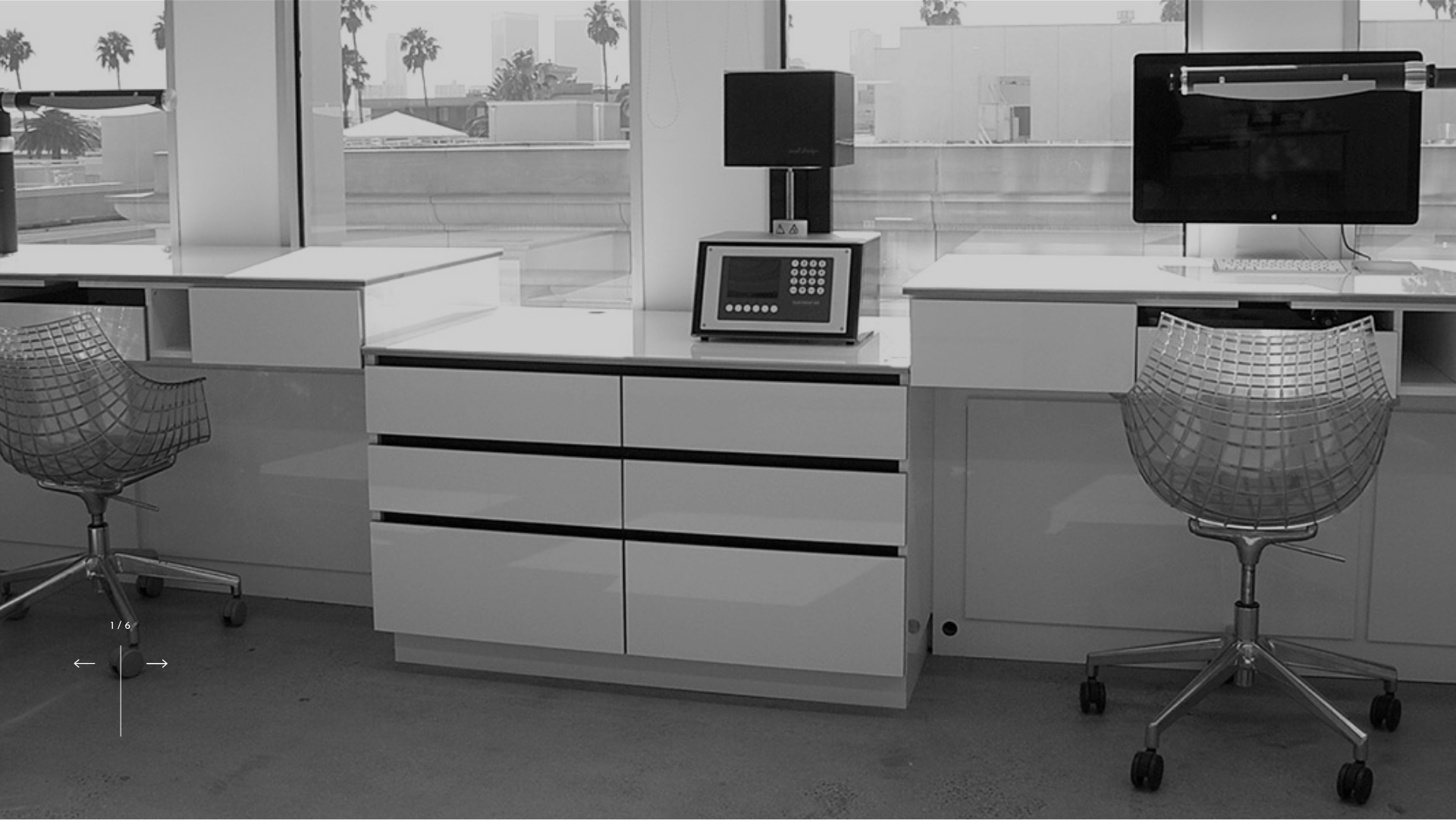 In balance between analog and digital. Many processes, multiple functions. A workstation in close contact with doing and sharing.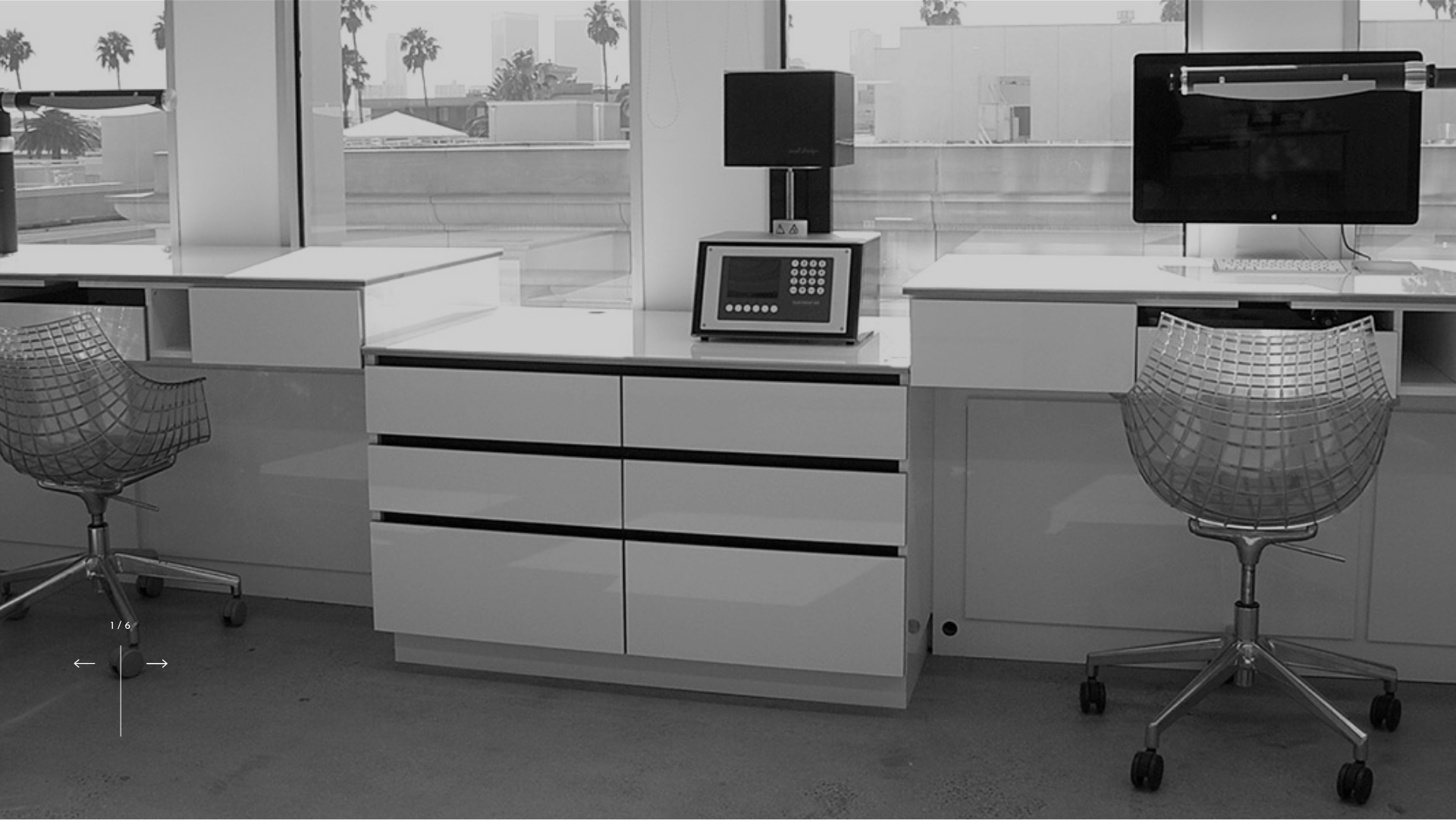 Cleaning of shapes. Freedom of movement. The panels of the support bases are easily removable and can be used to contain useful elements, but to hide them from view, ensuring maximum cleanliness to the lines and extreme practicality in movements.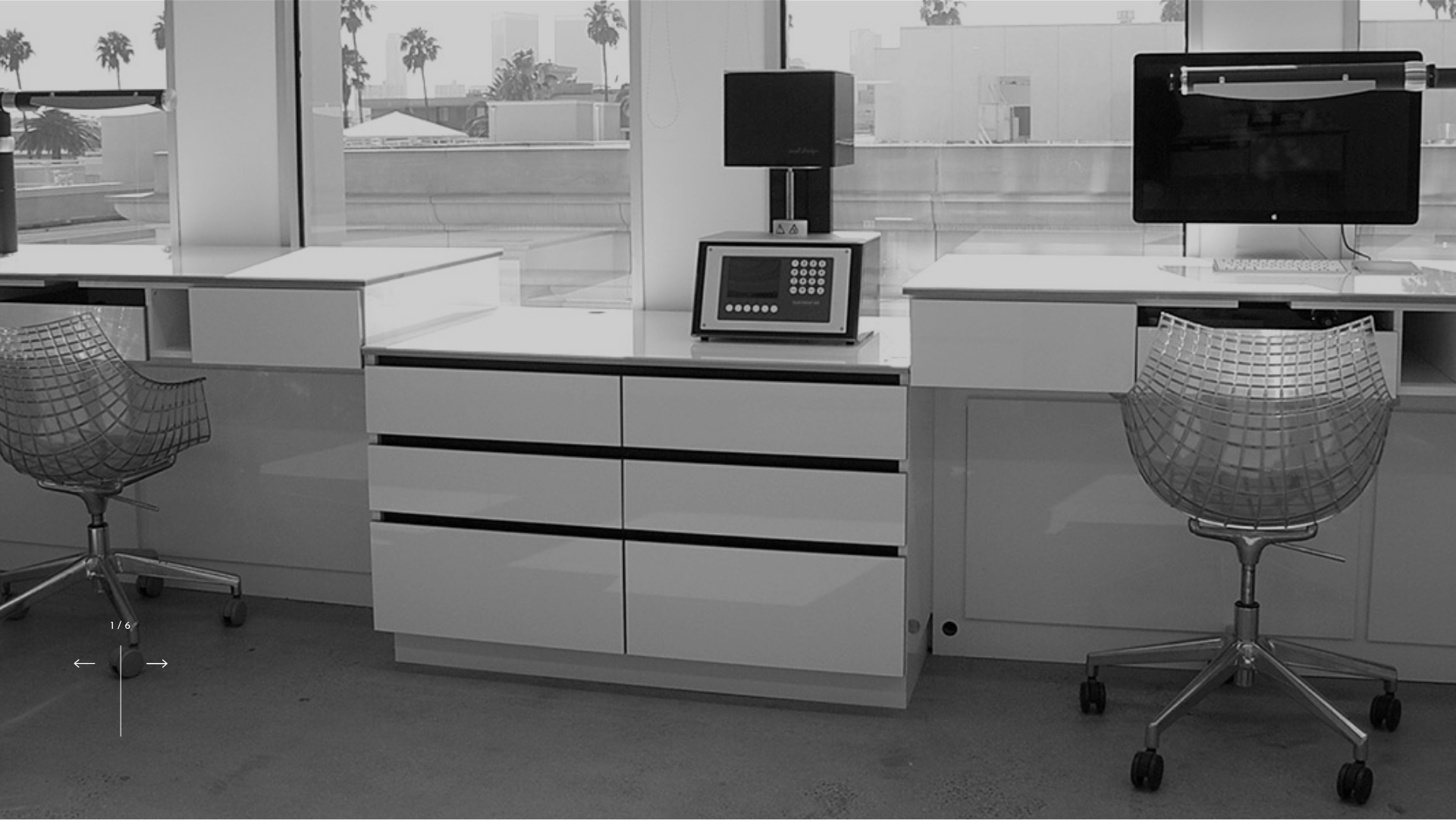 Endless modularity. The extreme modularity of SHARP allows you to compose work islands that allow you to make the most of every space and not to set limits to your projects.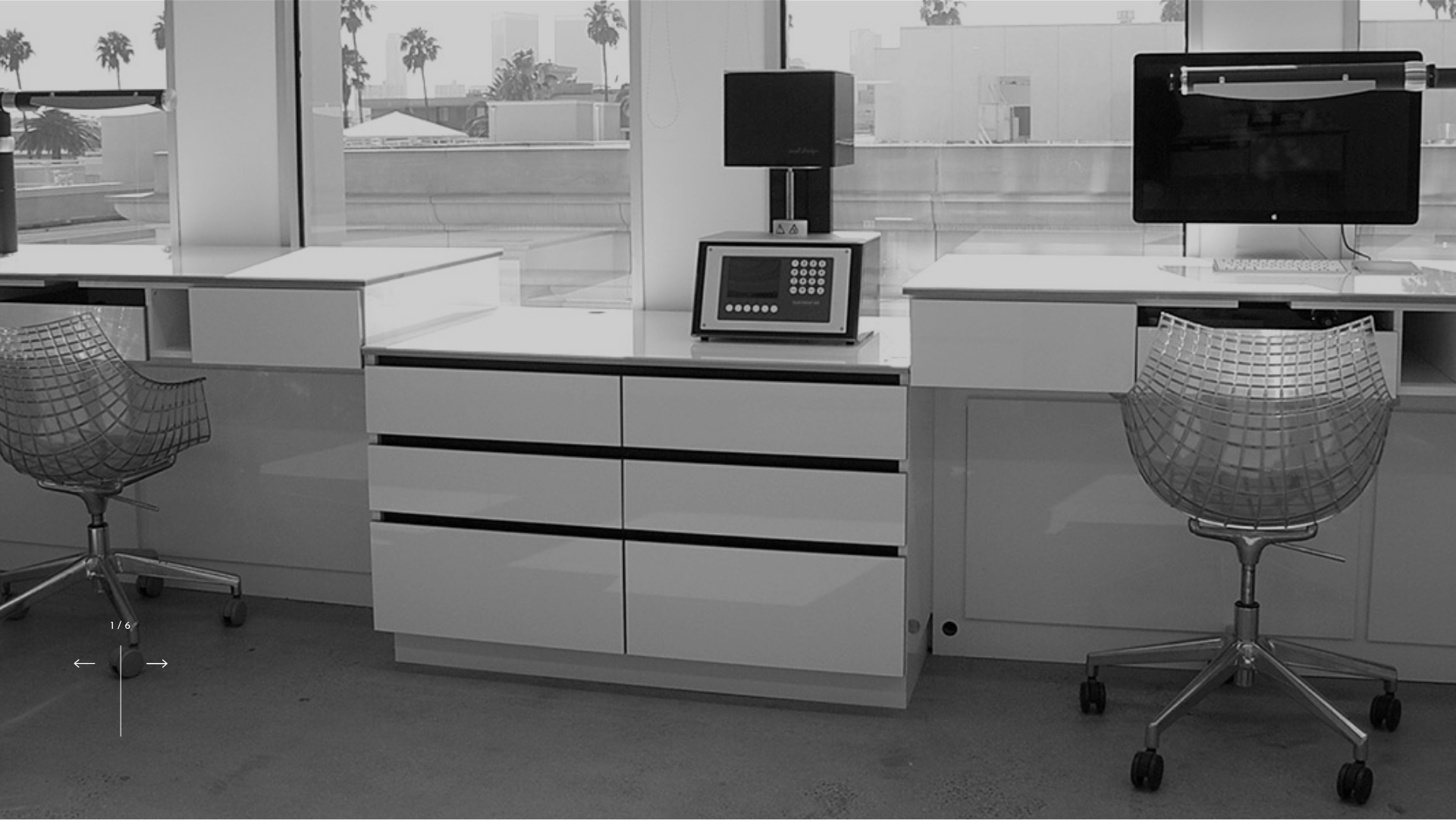 Between productivity and well-being. The extreme customization of the benches makes them the ideal workstations to maintain high productivity, without ever sacrificing the well-being provided by a correct posture.
SHARP
---
DENTAL LAB FURNITURE
The great compositional flexibility and the extreme possibility of customising the finishes and complements of the Sharp line make it the ideal choice for furnishing any space, even the most complex, without sacrificing style and functionality.
FEATURES:
A work space that favors organization and cleaning thanks to the reallocation of the electro pneumatic systems under the worktop, the internal application of the rotating instrumentation into the drawers and the elimination of the handles from the drawer fronts.
1 Modular workstation
2 Ergonomic operational chairs
3 Removable funnel suction point with glass protection and ready for a magnifying lens
4 Housing for suction units / storage
5 Pedal control cable passage
6 Removable ABS armrests applied on upper drawer
7 Removable suction point ready to receive removable ABS handrests
8 Hanging support for knee control
9 Glass divider to protect against dust and bacteria, designed to support case boxes
10 Cable bushing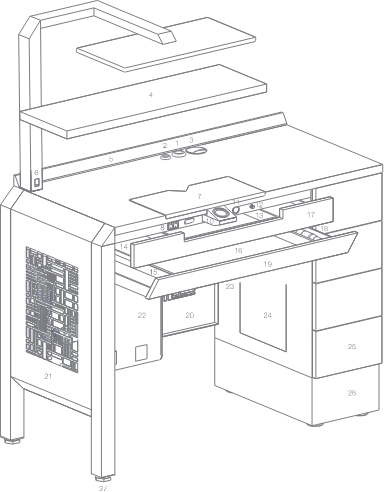 MODULARITY:
Custom-made is one of our main strengths and, thanks to a flexible and dynamic vision of the environments, has allowed the development of modular lines for modular solutions according to the different structural and functional requirements.
1 "Suspended" modular service modules
2 "Hanging" modular service modules
3 Operating unit support systems
4 Support system for "suspended" modular units
5 Support system for wall accessories
6 Modular lowered service modules
7 Modules on wheels
8 Support elements for case boxes
9 Glass-Wood-HPL-Corian shelves with / without lighting on the top
10 Worktops with 45 ° edge in Wood-HPL-Corian with / without backsplash
11 Technical duct with electro/pneumatic/data sockets
12 Electrified lifter for retractable monitor
13 Housing predisposition for Tower System
14 Modular Tower System for Monitors-Microscopes-Lamps
15 Suction point on worktop with cover
16 Drawer with suction inside
17 Technical housing for suction units / storage
18 Illuminated glass protection applicable to suction funnel
19 Housing with cover for electro/pneumatic controls
20 Drawers with integrated handle
21 Push-pull opening system for doors and drawers
22 Recessed monitor on equipped wall
23 Aseptic glass keyboard on top or flush-mounted
24 Concealed electrical / data sockets applied to the equipped wall or worktop
25 Drawer interiors complete with dividers, s.steel and PST trays as standard or prepared for inserts
26 Articulated retractable ABS armrests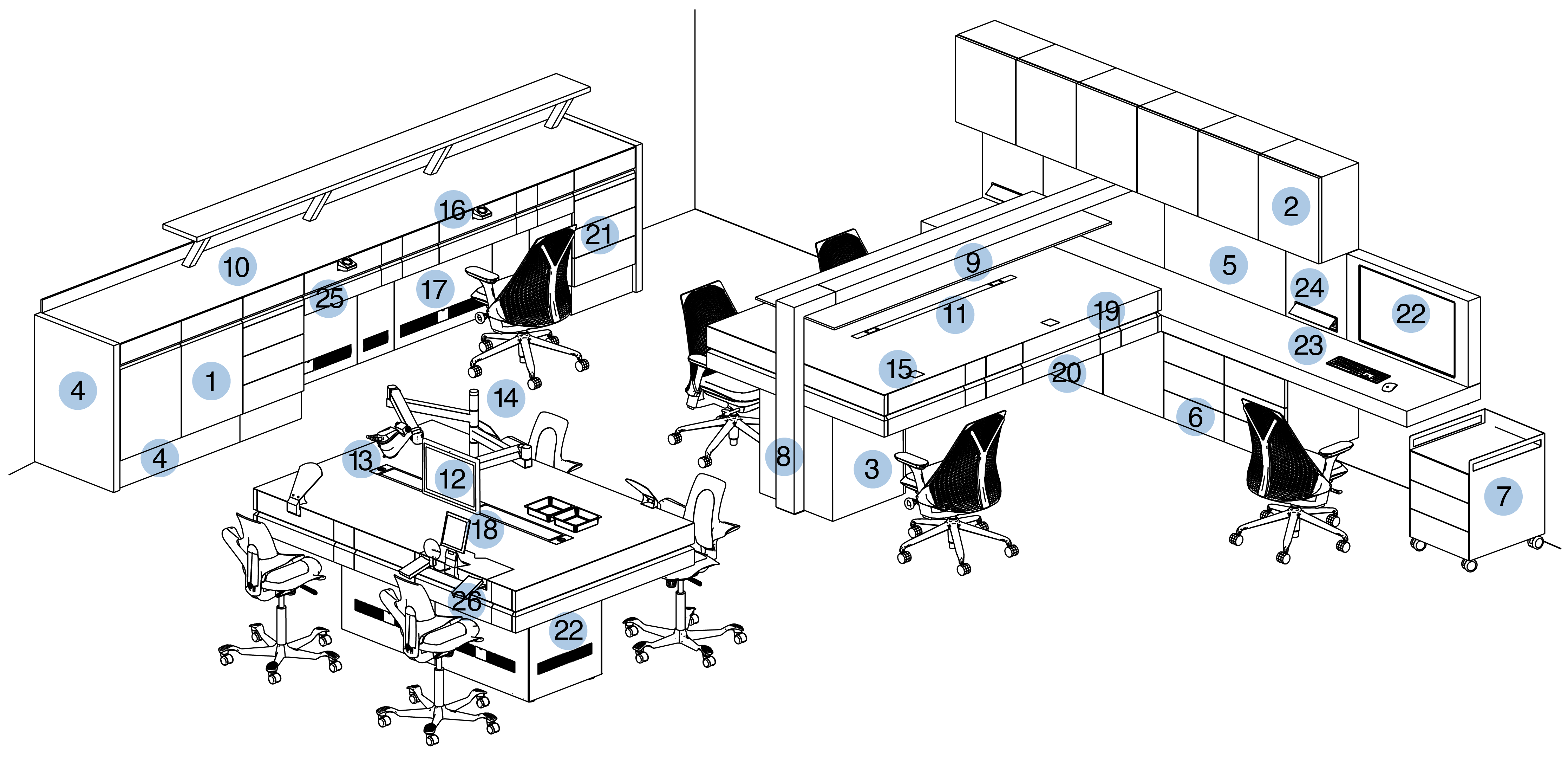 PAINTABLE SURFACES:
Our attention to style allows the customization of the furnishings through the proposal of a wide color scale. All the paints are made with epoxy powders that protect the furnishings from a possible formation of rust. The metal surfaces are lacquered with epoxy powders hot cured 180 °. The polymerized film is 60 microns for glossy surfaces and an average of 70 microns for surfaces witha Bucciat finish.
All standard RAL colors do not involve any surcharge in the cost of the furniture you have chosen. Below we offer you just a few examples of the available colors.

Bianco 9003

Limone 1016

Arancione 1028

Rosso 3028

Blu elettrico 5002

Verde 6000

Grigio agata 7044

Tortora 7036

Grigio fumo 7037

Grafite 7015

Nero 9017
We also have a selection of RAL design colors, the choice of which involves an extra cost compared to the price of the furniture.

Albicocca 0408520

Visone 0407005

Caffélatte 0406005

Caffè 0205005

Verde acido 1209030

Verde pastello 1408010

Assenzio 1407010

Salvia 1606010

Muschio 2006010

Petrolio 2205010

Carta da z. 2607015

Blu notte 2605015

Blu navy 2603025
WORKTOPS:
Before choosing the ideal material for the different operational worktops, one should ask oneself what are the characteristics of the material that will be most useful to us in the course of daily operations. On the choice of the most suitable top for different needs, certainly weighs the aesthetic component, but this must never ignore the working habits. We provide you below with a brief guide on the characteristics and maintenance necessary for each of the materials we use for the realization of our worktops.
Perhaps it is the most common and economical, it is characterized by its durability, resistance to scratches, stains, impact and abrasion and for the myriad of different colors and finishes available. Care must be taken not to place hot objects on them and take care of any water infiltration in the joints, it is easily cleaned with a cloth, with a sponge wet with detergent liquid, to avoid very abrasive products.

Bianco 751

Grigio 1366

Argilla 1027

Fumo 1023

Grafite 1397

Legno grigio
It is a solid, homogeneous material, composed of 1/3 of acrylic resins (polymethyl methacrylate) and 2/3 of natural minerals consisting mainly of aluminum tridate obtained from bauxite. It has proven to be a material of easy maintenance and great durability: it does not flake, it is able to withstand most shocks, scratches and cuts, it is not porous, compact in all thickness and can be installed with imperceptible joints that make the surface hygienic as certified by the NSF and the LGA body. It does not allow the growth of fungi and batteries its hygienic characteristics are certified according to the international standard DINENISO846. Corian is an inert and non-toxic material, exposed to normal temperatures does not release gas.

Bianco

Grigio

Fumo

Argilla

Visone
HPL (high-pressure laminate) is a compact high-pressure laminate. To manufacture it, several layers of recycled kraft paper or wood fiber (70%), impregnated with phenolic resin (30%) are stacked. This plastic resin is thermosetting. In particular, it is a combination of phenolic resins with a reduced rate of formaldehyde (lower than the amount established by European standards), HPL is therefore chemically inert. The result is a plate, very hard and with a high density, which resists the attacks of time, non-porous and capable of eliminating the damage caused by water, oils and steam. Finally, a last sheet of decorative paper is placed that will be covered with a protective layer. Also available with FENIX finish.

Bianco

Grigio

Argilla

Fumo

Grafite
An elegant material with a remarkable visual and technological impact, particularly hygienic and resistant. It is possible, however, that in everyday use the surface can be scratched so it is advisable not to drag objects on the surface and not to use metal scourers. To keep it in good condition for a long time it is recommended to use a neutral detergent by rubbing with a sponge of synthetic material in the direction of satin finishing and dry with a soft cloth. For the most stubborn stains you can use warm white vinegar or denatured alcohol, rinsing with plenty of water. Also be careful not to leave it in contact with ferrous substances for a long time, they could cause oxidation and rust stains.
SHARP INSPIRATIONS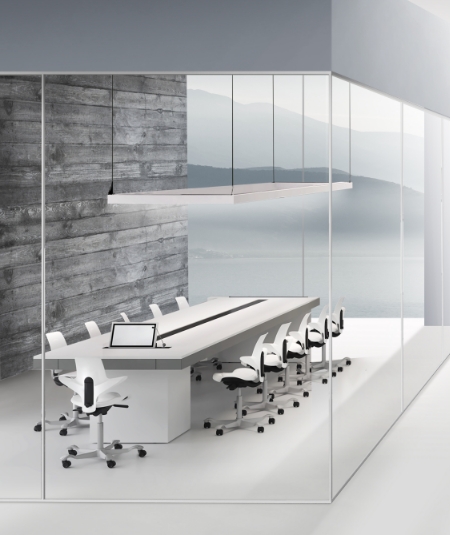 The SHARP line, among other things, is characterized by the 45° junction between the vertical and horizontal parts. A small detail that makes the difference, allowing the composition to look like a monolith.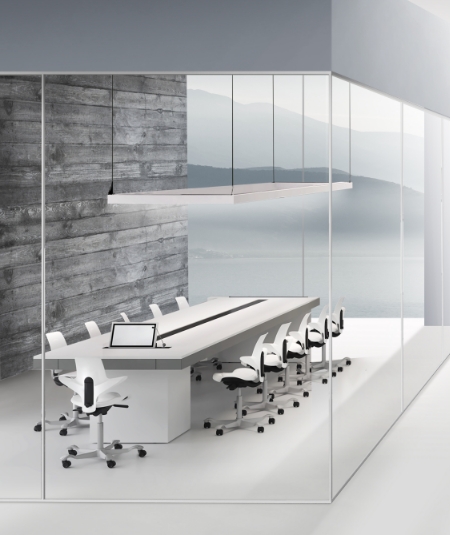 The SHARP line can be developed on a wall or island, square or rectangular, depending on the needs and size of the rooms. The new thick support panel adds a touch of modern and attractive design.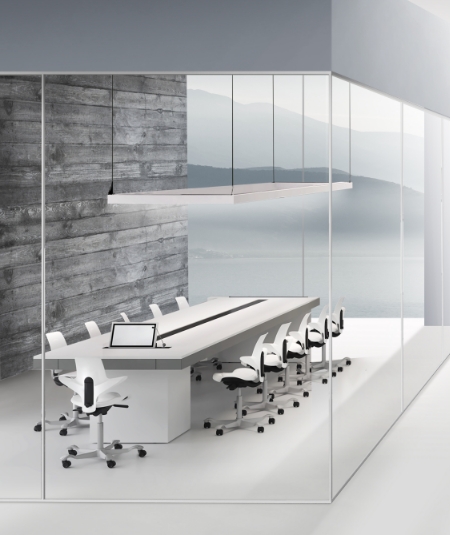 SHARP is constantly evolving. The addition of the new portal expands the possibilities of customization. The portal can act as a support for the work boxes and accommodate, if necessary, additional lighting for the work surface.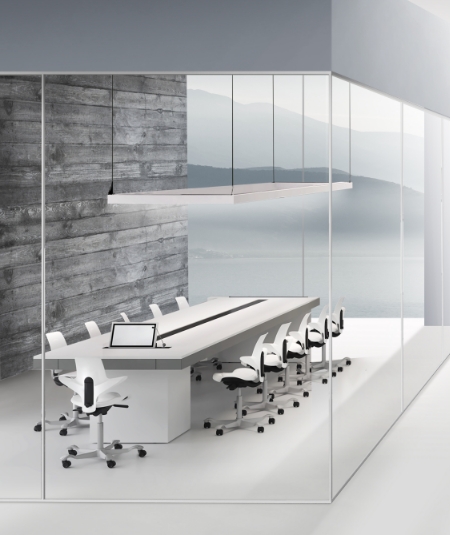 Clean lines and modern shapes. SHARP has everything you need, without showing it off: the possibility of housing instruments and materials inside drawers and panels, allows you to have everything you need to carry out the work, always at hand, but hidden from view.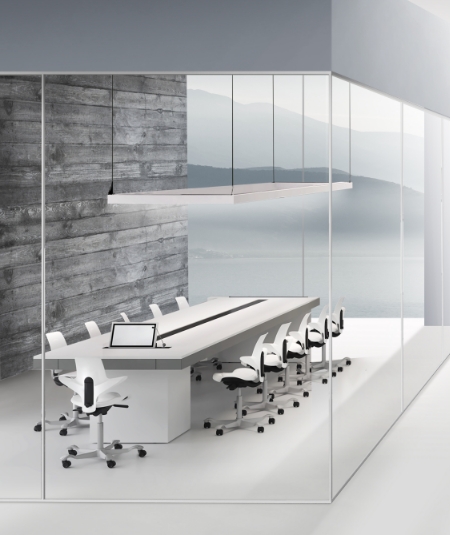 The modularity of SHARP is completed with endless possibilities of full-height service modules.

The brand new glass partition, placed at the center of the composition, guarantees protection without covering the field of view of the operators.

SHARP is not just a traditional workstation. In fact, there are countless dialing possibilities for digital workstations.

The aesthetics and functionality of SHARP offer unique solutions in the world of dental furniture. The integration of analog workstations with digital ones guarantee a result of perfect harmony. With this solution we can also take advantage of the walls, giving the possibility to have everything you need at hand: even a small environment can give infinite possibilities.

Endless possibilities of composition, from the smallest to the largest. The modularity of SHARP allows you to compose work islands of infinite lengths, with or without drawers between one workstation and another.

The panels of the support bases are easily removable. The interior space can contain vacuum cleaners, small compressors or can serve as a warehouse. This allows you to take advantage of the spaces, giving it a use and at the same time always ensuring a clean aesthetic.
PREDISPOSITION FOR ABS SUCTION POINT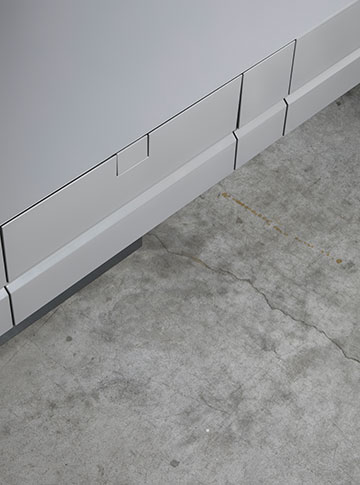 S.STEEL PROTECTION ON WORKTOP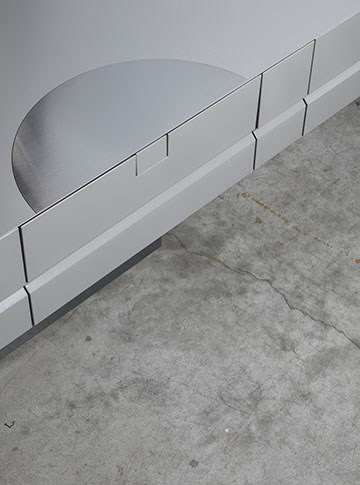 ABS SUCTION POINT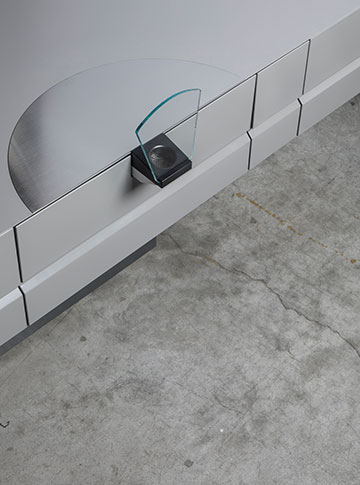 PROTECTION GLASS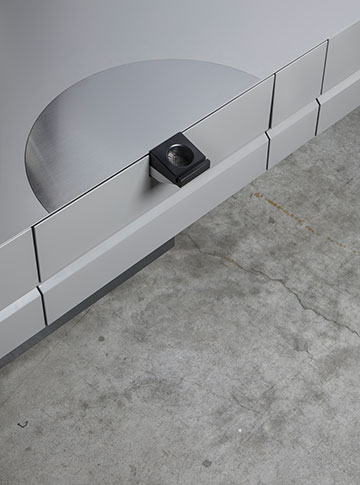 FUNNEL SUCTION POINT ON TOP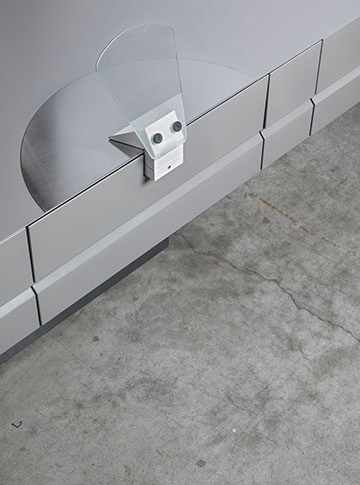 PROTECTION GLASS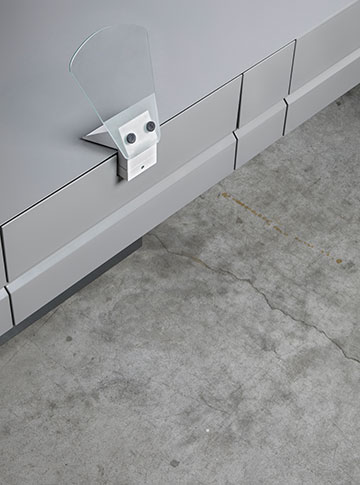 SUCTION POINT ON WORKTOP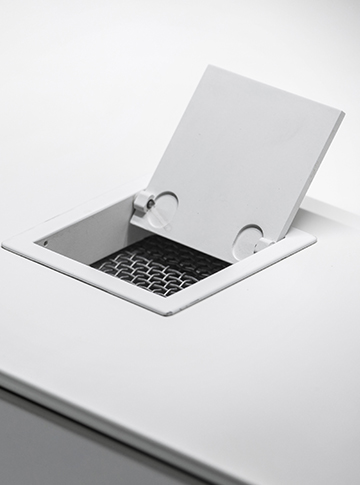 CLOSED SUCTION POINT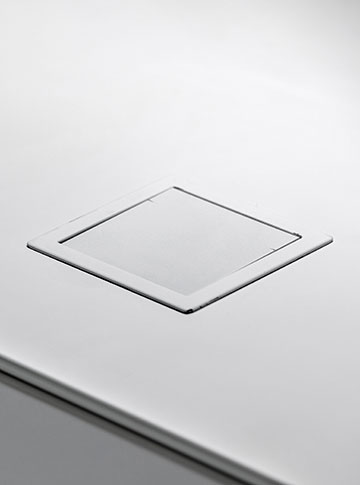 DRAWER WITH INTEGRATED SUCTION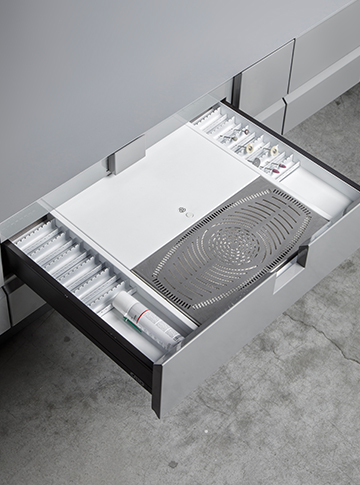 S.STEEL TRAY ON UPPER DRAWER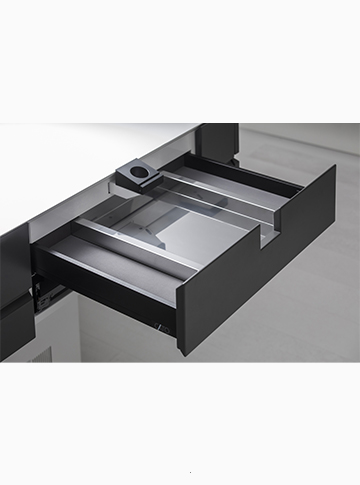 PST TRAY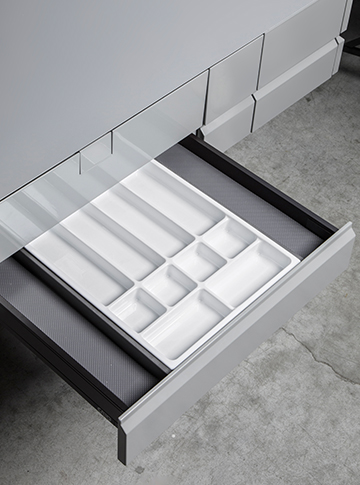 DISCIPLINE KIT ON UPPER DRAWER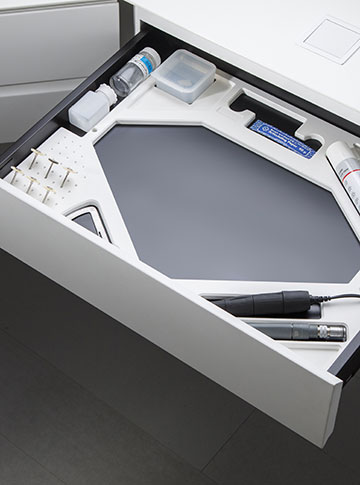 DISCIPLINE KIT ON SECOND DRAWER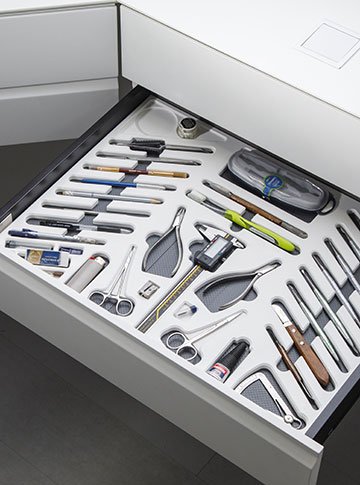 CUSTOMIZABLE INSERTS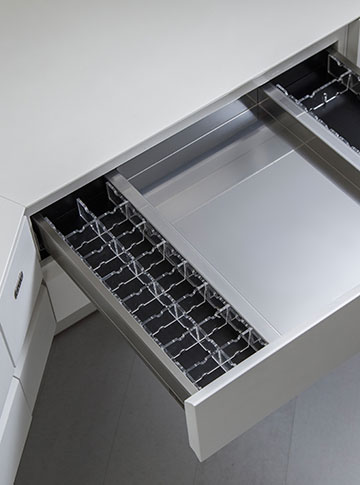 REMOVABLE ARMRESTS ON UPPER DRAWER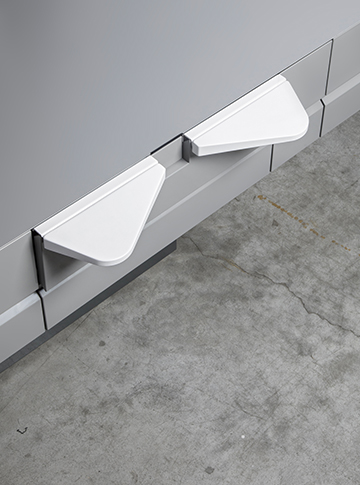 REMOVABLE ARMRESTS ON UPPER DRAWER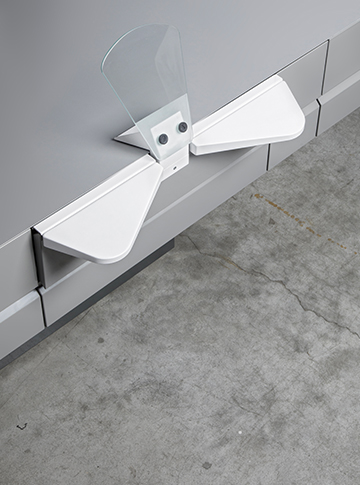 REMOVABLE ARMRESTS ON UPPER DRAWER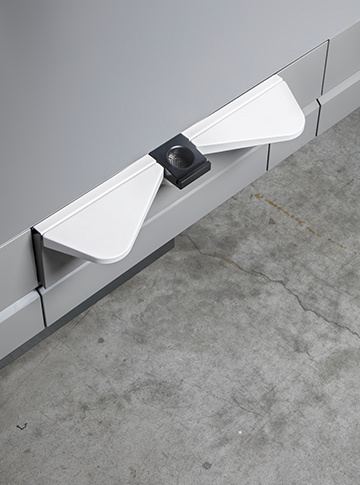 REMOVABLE ARMRESTS ON SECOND DRAWER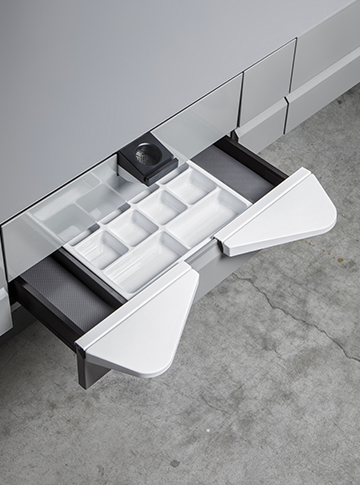 RETRACTABLE ADJUSTABLE ARMRESTS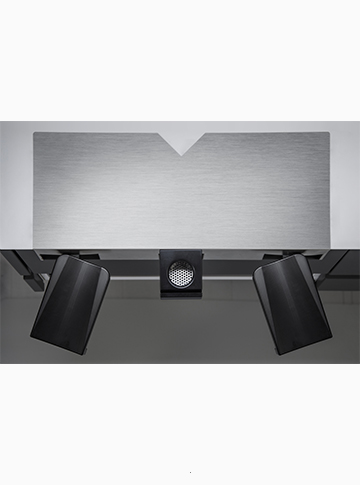 RETRACTABLE ADJUSTABLE ARMRESTS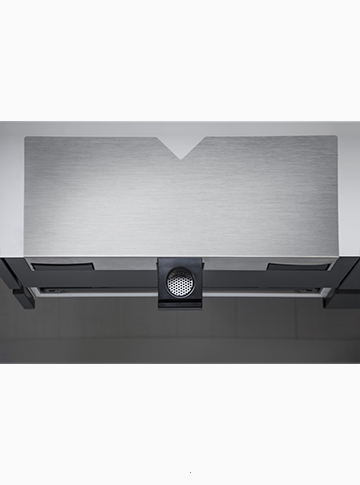 CONTROL ROOM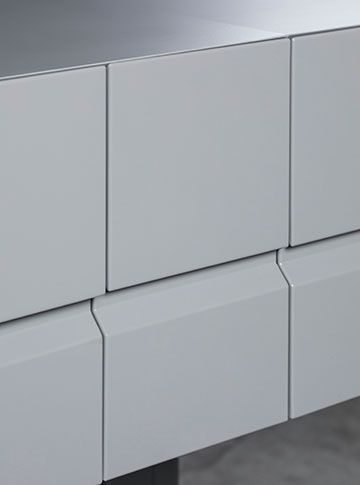 HANDPIECE SUPPORTS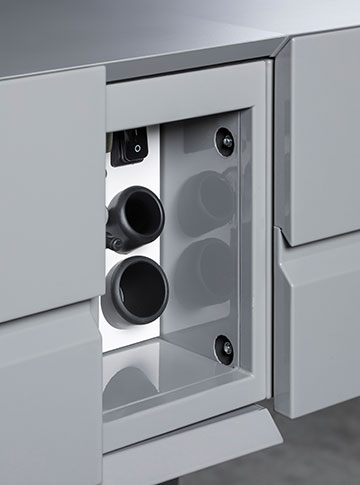 ELECTRO-PNEUMATIC CONTROLS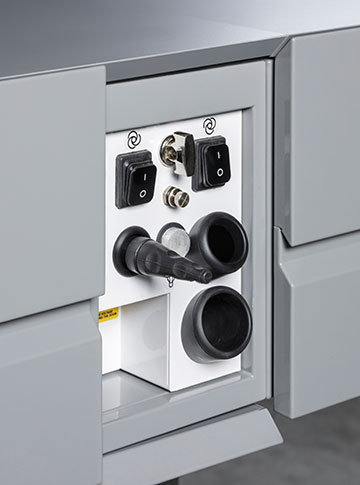 EASY MAINTENANCE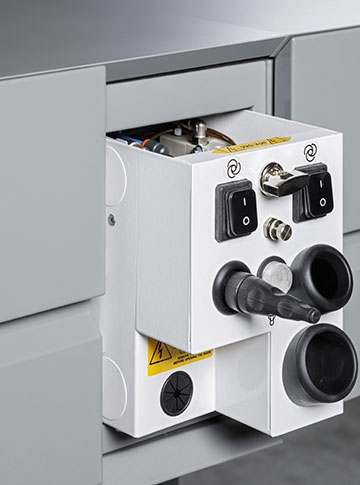 45° JUNCTIONS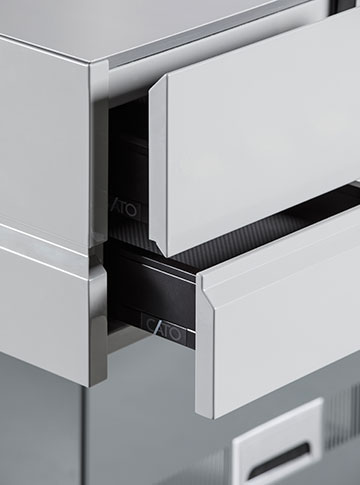 INTERNAL TECHNOLOGY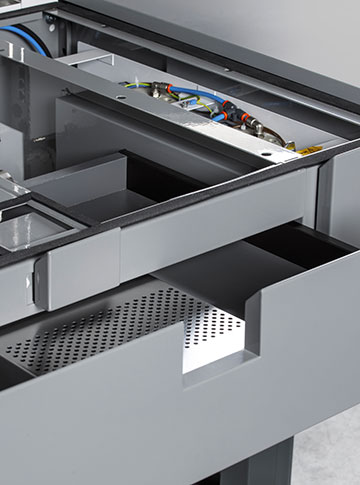 SUPPORT STRUCTURE WITH REMOVABLE PANELS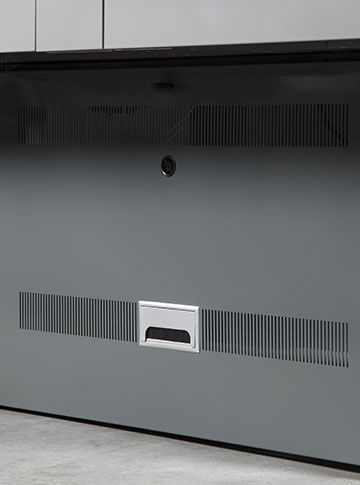 SUCTION UNITS HOUSING OR STORAGE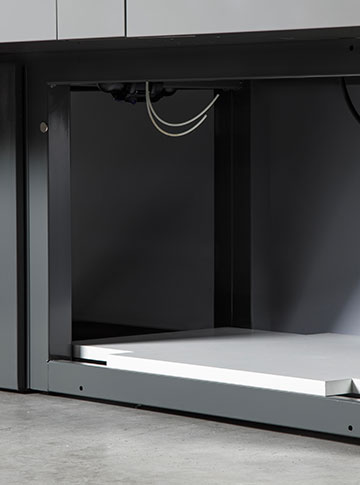 CENTRAL TECHNICAL DUCT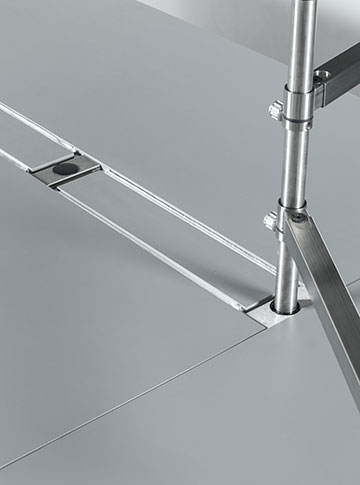 ELECTRIC, PNEUMATIC AND DATA SOCKETS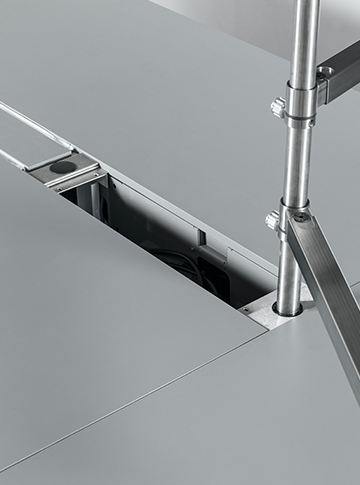 "TOWER SYSTEM" FOR MICROSCOPES, MONITORS, LAMPS, ETC.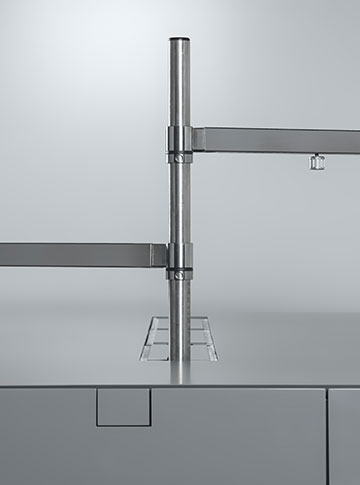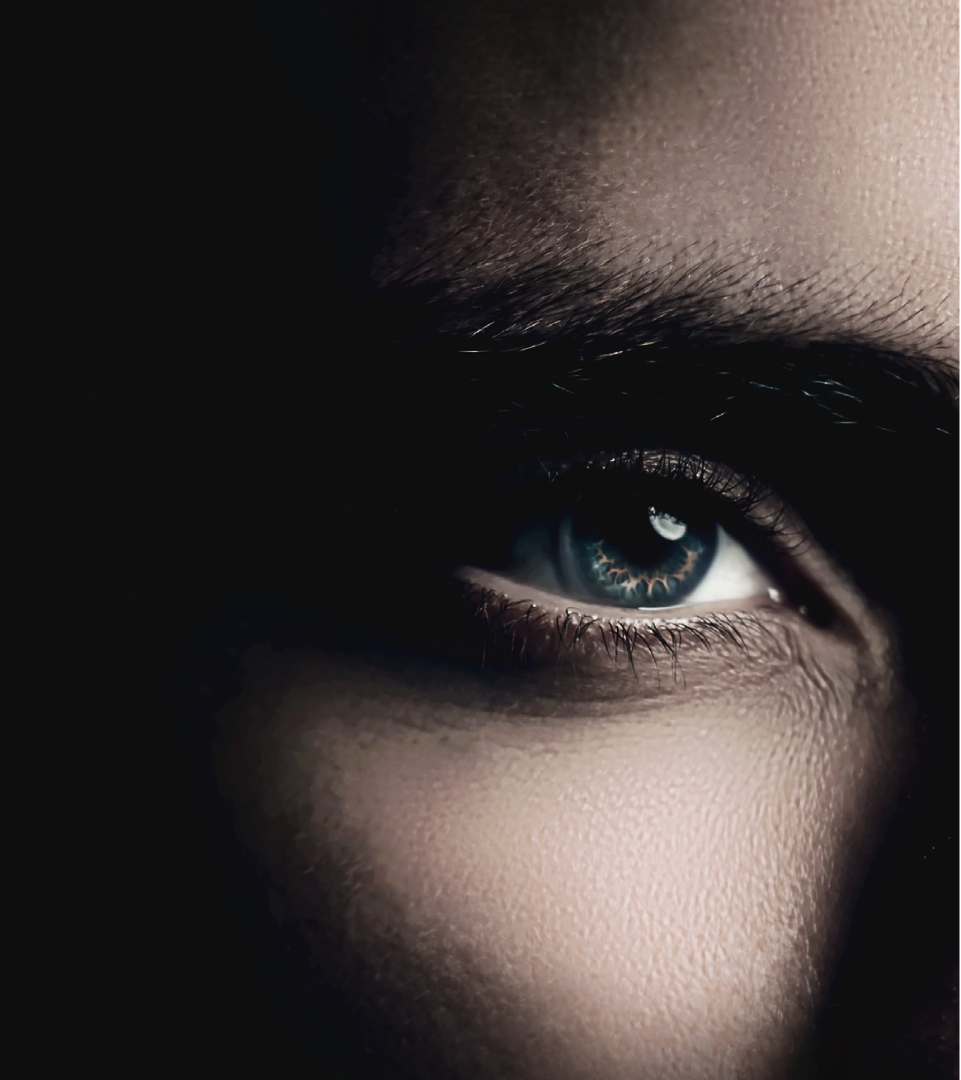 You might also be interested in:
COMBY
COMBY is a collection with a young and versatile spirit, striking a balance between simplicity and concreteness. The originality of the collection lies in its square, intuitive and essential lines and in the choice of modern materials.
Find more on COMBY