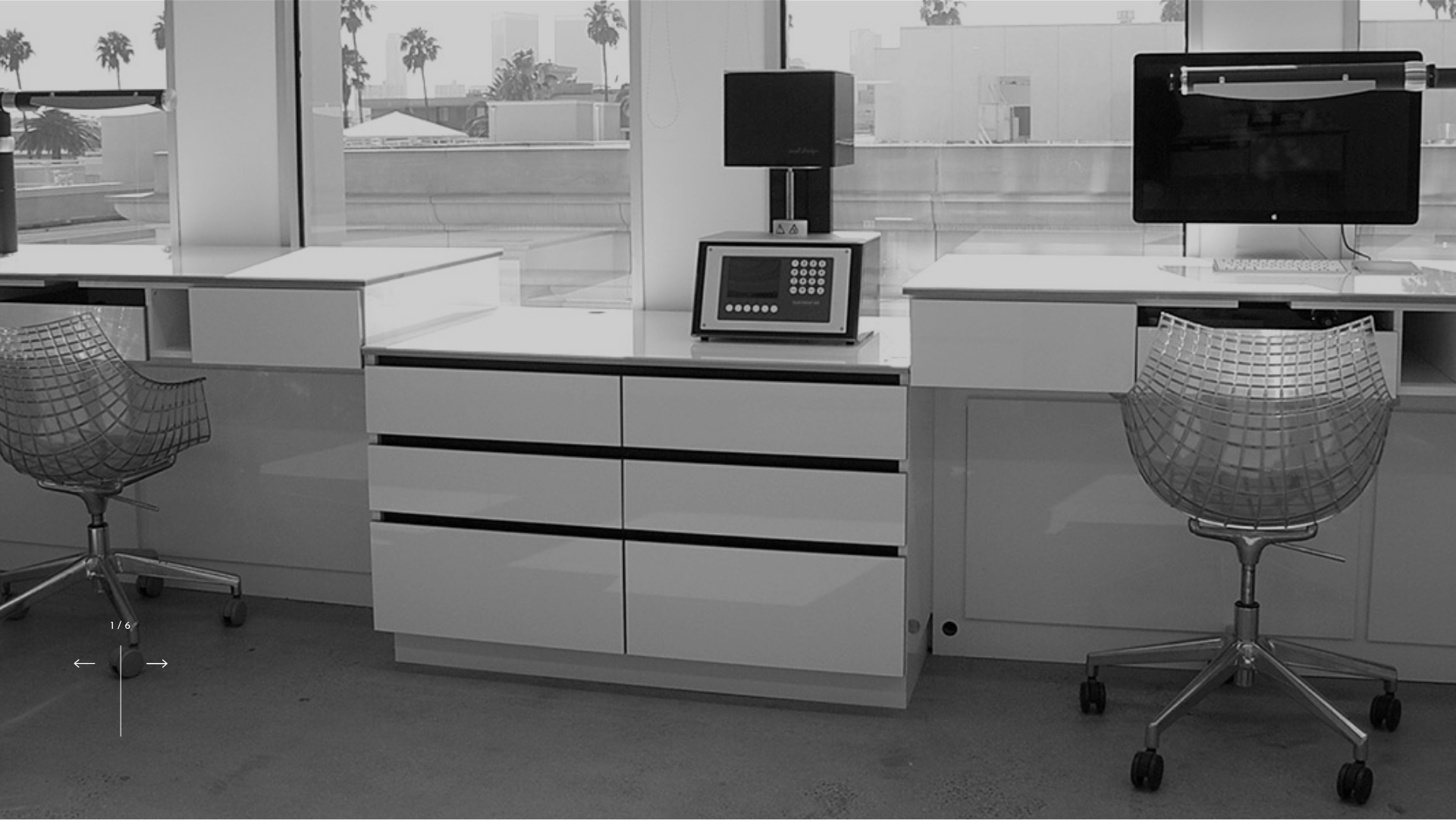 From analogue to digital. CAD/CAM area with PC workstations, scanners and milling machines, operating area with two four-workstation islands.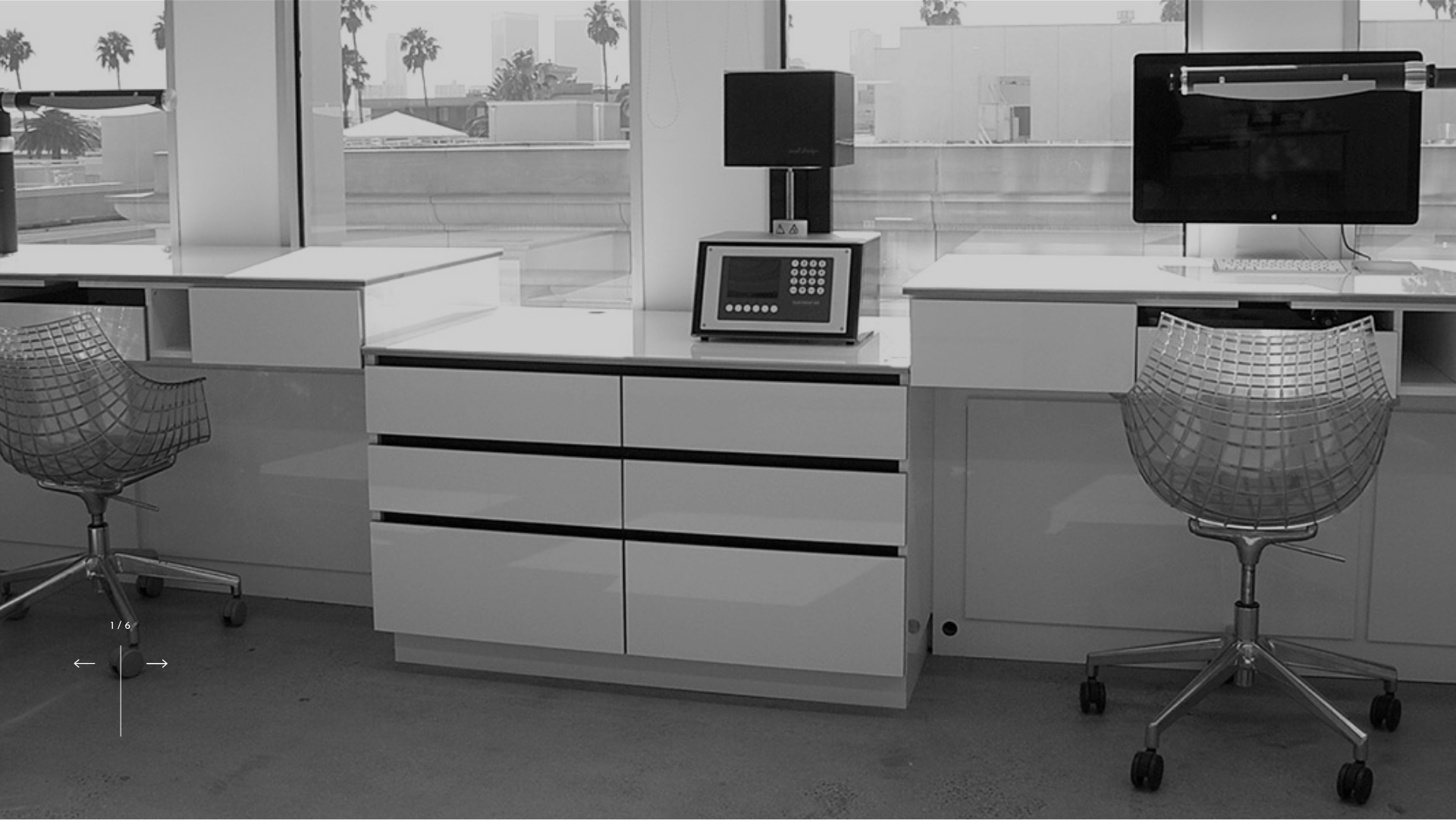 Balance between space and functionality. A 70 square metre space consisting of a four-working area.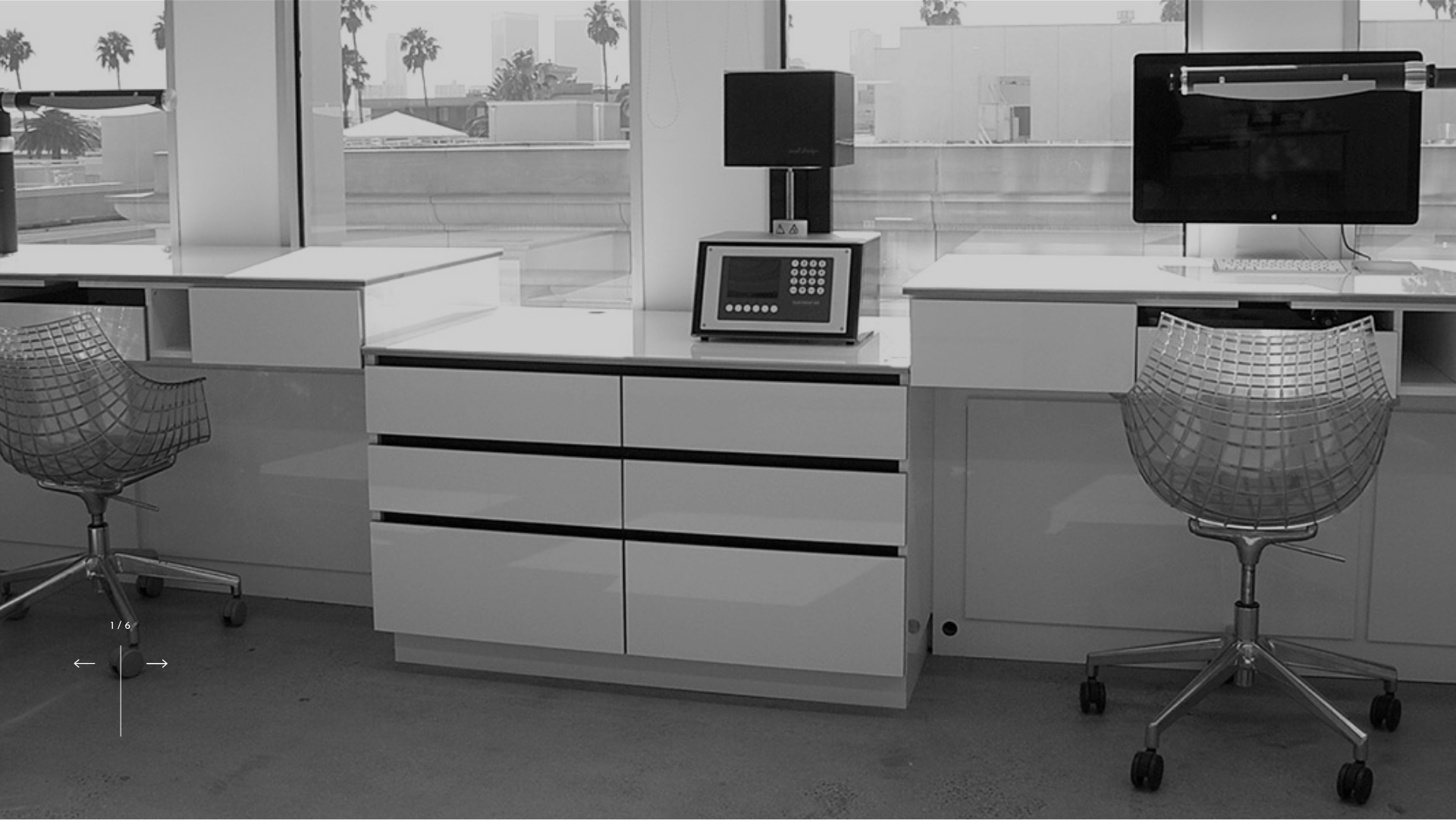 Integration of technician and dentist. Multifunctional space consisting of dental area with service modules, CAD/CAM area with PC workstations, scanner and milling machine, operating area with three-workstation island and service modules.
COMBY
---
DENTAL LAB FURNITURE
Reinterpreting tradition to create a line with a young and versatile spirit, the origin of a complex interplay between simplicity and concreteness. The harmony of colours and finishes marry functionality and modularity in Comby, creating a new way of conceiving the working space.
Download:
FEATURES:
A work space that favors organization and cleaning thanks to the reallocation of the electro pneumatic systems under the worktop, the internal application of the rotating instrumentation into the drawers and the elimination of the handles from the drawer fronts.
1 Turbine/electric spatula support
2 Micromotor support
3 Cable hole cover
4 Multi-function shelf
5 Backsplash
6 Lamp switch
7 Sb steel protection
8 Aspiration control buttons
9 Aspiration point
10 Sliding support point
11 Air bellows housing
12 Pressure reducer for turbine
13 Instruments container
14 Material/tools housing
15 Milling tools housing
16 Steel dirt container
17 Drawer with integrated handle
18 Rotating instruments housing
19 Antitrauma drawer front
20 Customizable panels
21 Customizable panels
22 Aspiration system
23 Underfloor Schuko socket 220V
24 Knee micromotor activation
25 Push and pull opening
26 Support element
27 Adjustable leveling feet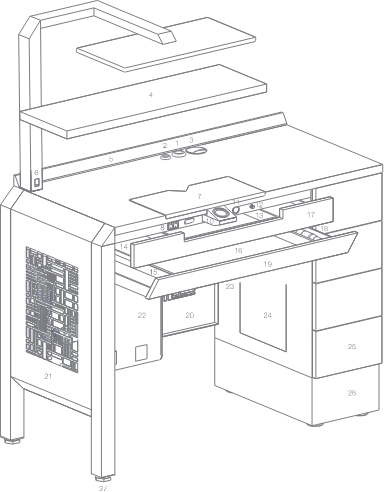 MODULARITY:
Custom-made is one of our main strengths and, thanks to a flexible and dynamic vision of the environments, has allowed the development of modular lines for modular solutions according to the different structural and functional requirements.
1 Workstation
2 Lowered module
3 Hood module
4 Hanging modules
5 Hanging modules
6 Service modules
7 Polishing unit
8 Work boxes grid
9 Plaster module
10 Accessorised shelves
11 Work boxes module
12 Finishing module
13 Module on wheels
14 Scanner/CAD station
15 CAM module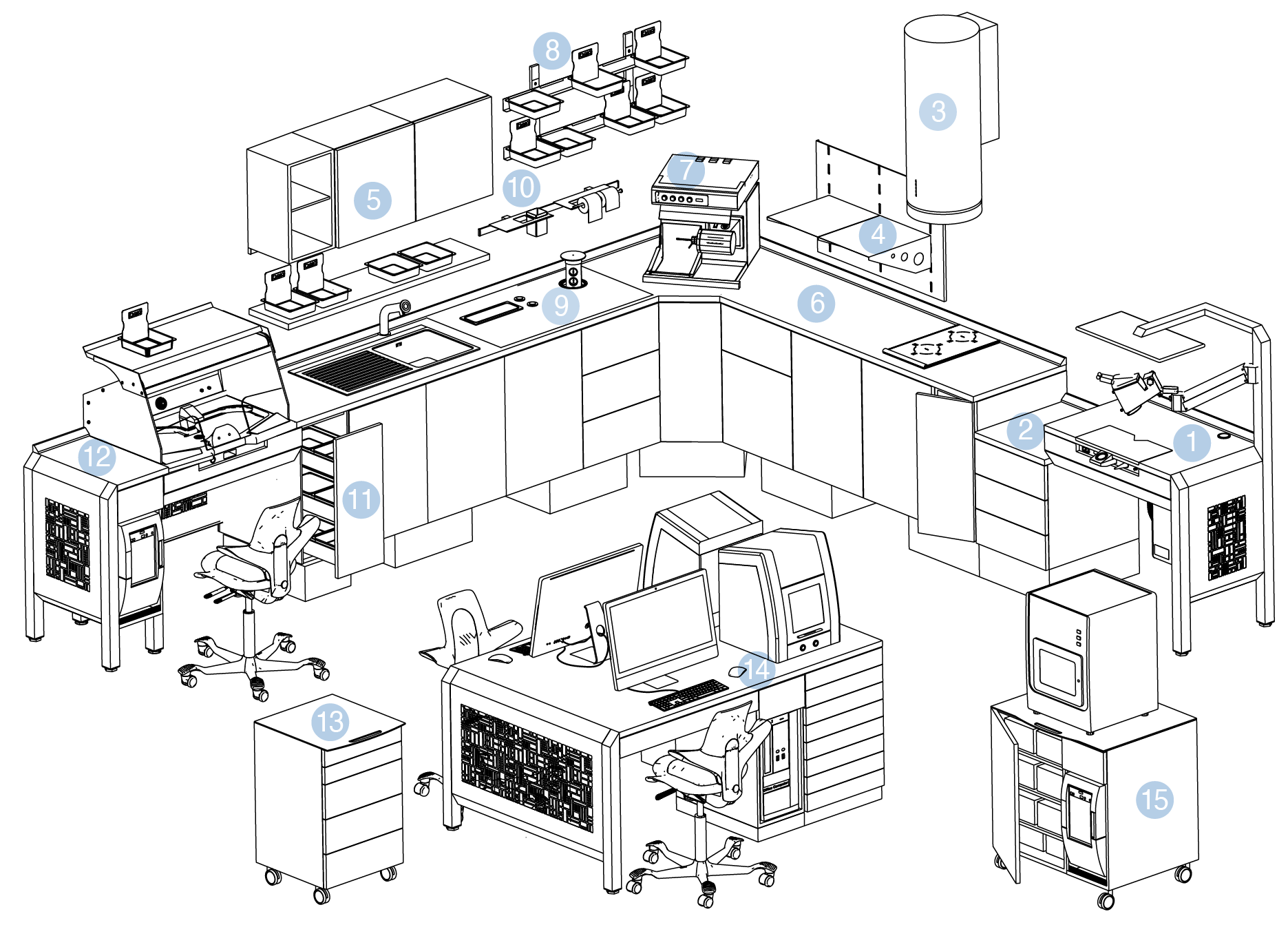 PAINTABLE SURFACES:
Our attention to style allows the customization of the furnishings through the proposal of a wide color scale. All the paints are made with epoxy powders that protect the furnishings from a possible formation of rust. The metal surfaces are lacquered with epoxy powders hot cured 180 °. The polymerized film is 60 microns for glossy surfaces and an average of 70 microns for surfaces witha Bucciat finish.
All standard RAL colors do not involve any surcharge in the cost of the furniture you have chosen. Below we offer you just a few examples of the available colors.

Bianco 9003

Limone 1016

Arancione 1028

Rosso 3028

Blu elettrico 5002

Verde 6000

Grigio agata 7044

Tortora 7036

Grigio fumo 7037

Grafite 7015

Nero 9017
We also have a selection of RAL design colors, the choice of which involves an extra cost compared to the price of the furniture.

Albicocca 0408520

Visone 0407005

Caffélatte 0406005

Caffè 0205005

Verde acido 1209030

Verde pastello 1408010

Assenzio 1407010

Salvia 1606010

Muschio 2006010

Petrolio 2205010

Carta da z. 2607015

Blu notte 2605015

Blu navy 2603025
WORKTOPS:
Before choosing the ideal material for the different operational worktops, one should ask oneself what are the characteristics of the material that will be most useful to us in the course of daily operations. On the choice of the most suitable top for different needs, certainly weighs the aesthetic component, but this must never ignore the working habits. We provide you below with a brief guide on the characteristics and maintenance necessary for each of the materials we use for the realization of our worktops.
Perhaps it is the most common and economical, it is characterized by its durability, resistance to scratches, stains, impact and abrasion and for the myriad of different colors and finishes available. Care must be taken not to place hot objects on them and take care of any water infiltration in the joints, it is easily cleaned with a cloth, with a sponge wet with detergent liquid, to avoid very abrasive products.

Bianco 751

Grigio 1366

Argilla 1027

Fumo 1023

Grafite 1397

Legno grigio
It is a solid, homogeneous material, composed of 1/3 of acrylic resins (polymethyl methacrylate) and 2/3 of natural minerals consisting mainly of aluminum tridate obtained from bauxite. It has proven to be a material of easy maintenance and great durability: it does not flake, it is able to withstand most shocks, scratches and cuts, it is not porous, compact in all thickness and can be installed with imperceptible joints that make the surface hygienic as certified by the NSF and the LGA body. It does not allow the growth of fungi and batteries its hygienic characteristics are certified according to the international standard DINENISO846. Corian is an inert and non-toxic material, exposed to normal temperatures does not release gas.

Bianco

Grigio

Fumo

Argilla

Visone
HPL (high-pressure laminate) is a compact high-pressure laminate. To manufacture it, several layers of recycled kraft paper or wood fiber (70%), impregnated with phenolic resin (30%) are stacked. This plastic resin is thermosetting. In particular, it is a combination of phenolic resins with a reduced rate of formaldehyde (lower than the amount established by European standards), HPL is therefore chemically inert. The result is a plate, very hard and with a high density, which resists the attacks of time, non-porous and capable of eliminating the damage caused by water, oils and steam. Finally, a last sheet of decorative paper is placed that will be covered with a protective layer. Also available with FENIX finish.

Bianco

Grigio

Argilla

Fumo

Grafite
An elegant material with a remarkable visual and technological impact, particularly hygienic and resistant. It is possible, however, that in everyday use the surface can be scratched so it is advisable not to drag objects on the surface and not to use metal scourers. To keep it in good condition for a long time it is recommended to use a neutral detergent by rubbing with a sponge of synthetic material in the direction of satin finishing and dry with a soft cloth. For the most stubborn stains you can use warm white vinegar or denatured alcohol, rinsing with plenty of water. Also be careful not to leave it in contact with ferrous substances for a long time, they could cause oxidation and rust stains.
COMBY INSPIRATIONS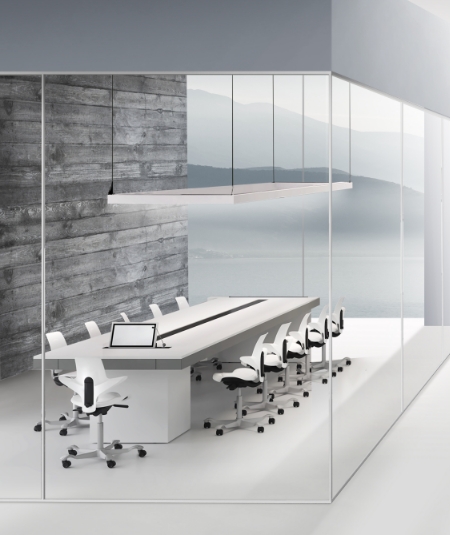 Custom-made training table complete with control desk, retractable monitor, multifunctional drawers and LED perimeter lighting.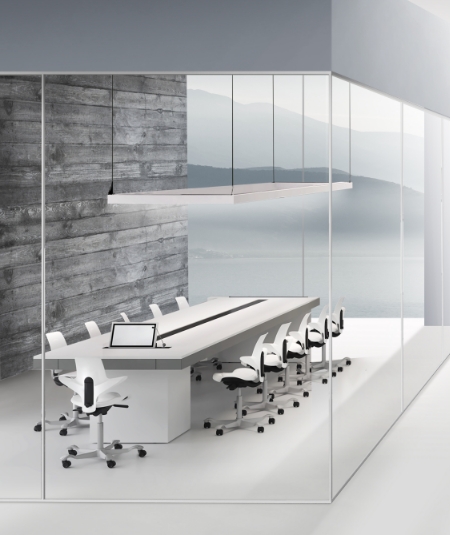 Finishing area: workstation, Skybox with protective glass shell.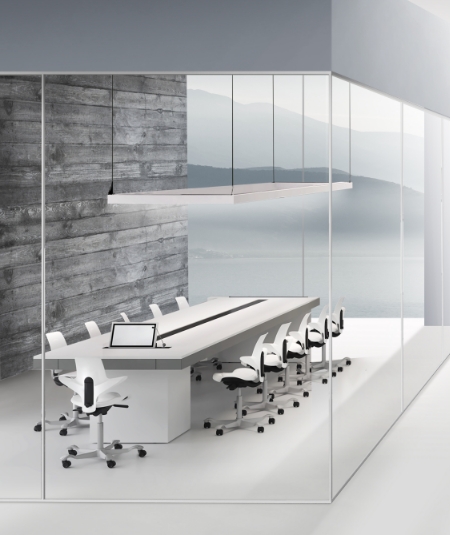 Four-place peninsula unit.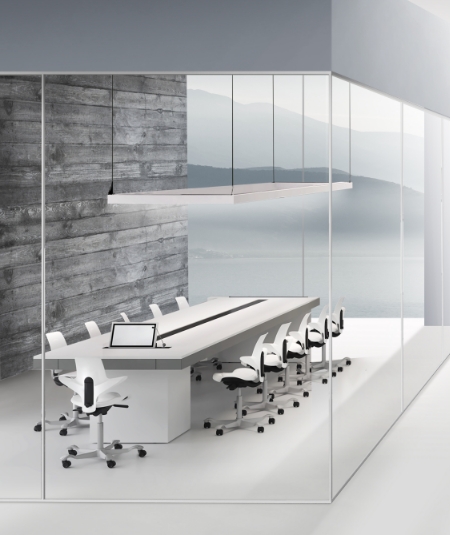 CAD/CAM unit with PC workstations, scanner and milling machine, dedicated modules.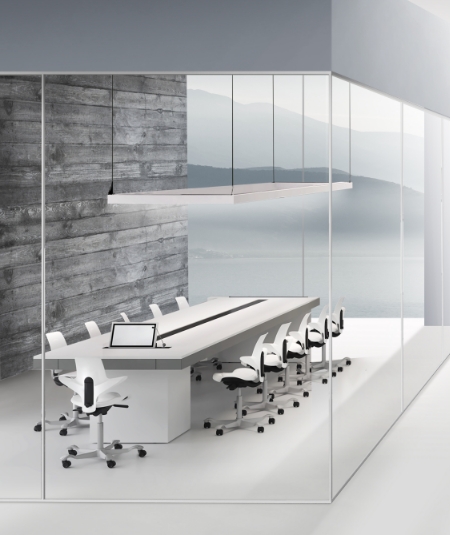 Central operating area: 10 workstations complete with box holder shelf, centralised suction, ABS suction support points, multifunctional drawers and service modules.

Digital area: two CAD/CAM workstations, service modules equipped for material and tool storage.

Plastering area: sink module prepared for model squad and decanter, service modules with plaster drawers, air bellows and waste hopper.

Finishing area: workstation, Skybox with protective glass shell, integrated swivelling lamp, concealed tool and air bellows housing, service modules.

Three-place hexagonal operating unit with work platform, under-floor electropneumatic systems, service modules and perimeter open compartments.

Finishing area: two workstations, four Skybox stations and service modules. Plastering area: sink modules prepared for model squad and decanter, service modules with air bellows and waste hopper.
ABS WORK BLOCK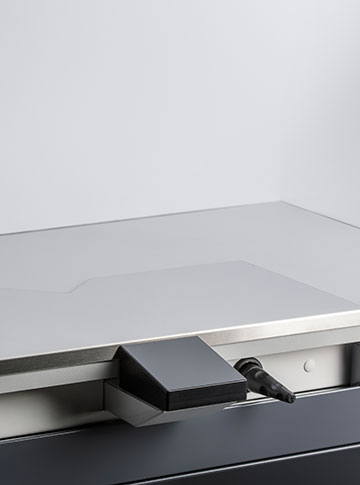 ABS SUCTION POINT READY FOR PROTECTION GLASS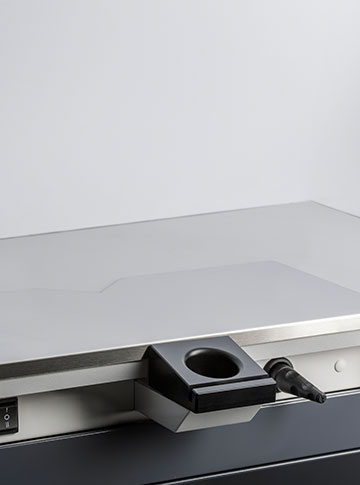 REMOVABLE PROTECTION GLASS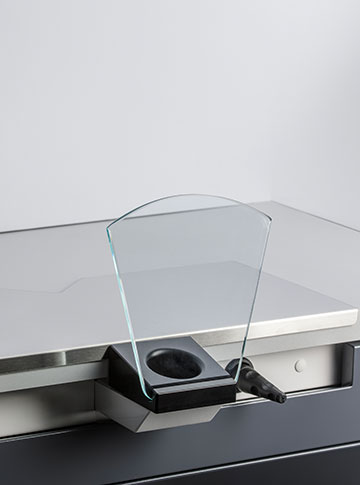 MAGNETIZED WORK BLOCK ON TOP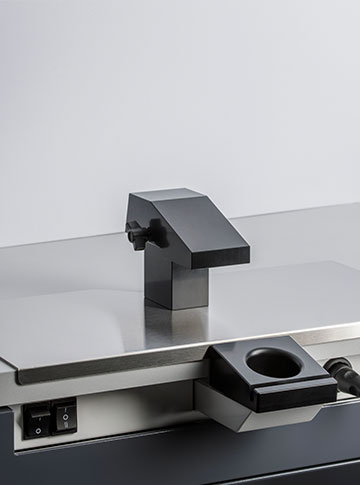 FUNNEL SUCTION POINT ON TOP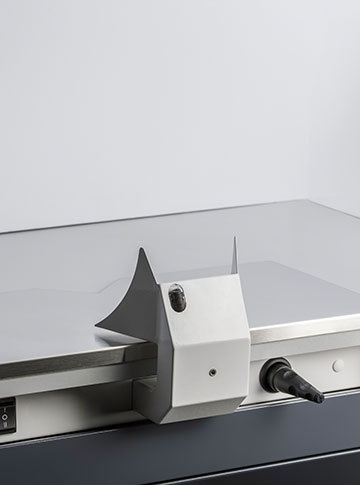 ILLUMINATED GLASS PROTECTION APPLICABLE TO SUCTION FUNNEL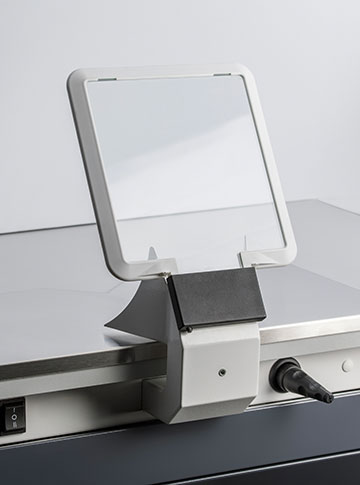 MAGNIFYING LENS APPLICABLE TO SUCTION FUNNEL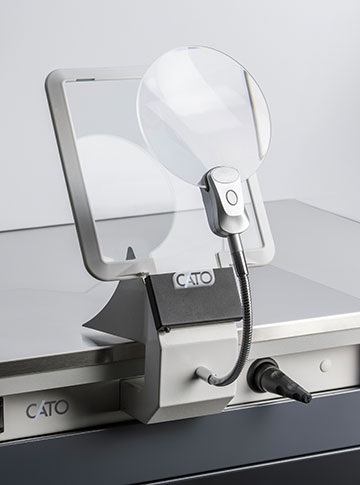 GLASS PROTECTION WITH LED LIGHTING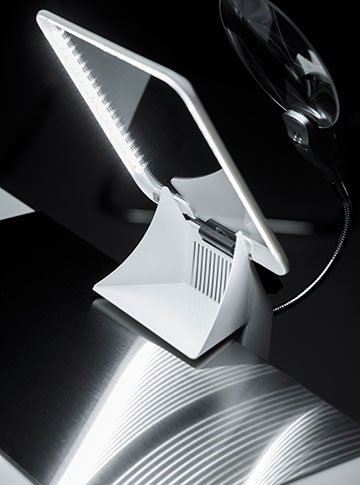 HANGING SUPPORT FOR KNEE CONTROL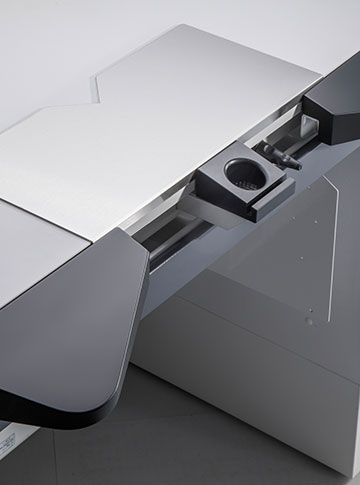 REMOVABLE ABS ARMRESTS ON UPPER DRAWER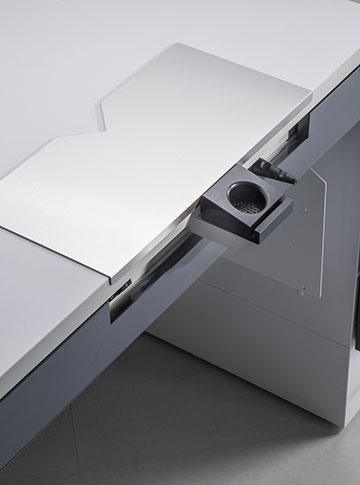 REMOVABLE ABS HAND REST ON SUCTION POINT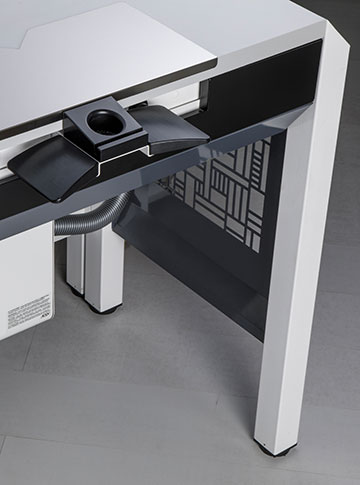 REMOVABLE AND SLIDING ELBOW RESTS ON SECOND DRAWER
PST TRAY ON UPPER DRAWER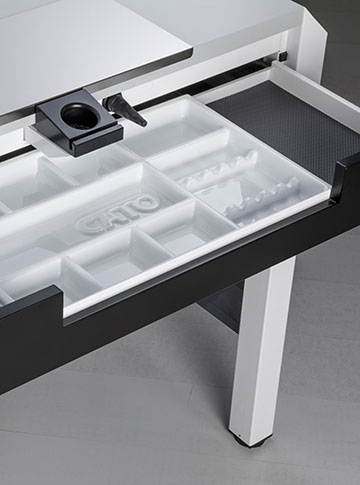 S. STEEL TRAY ON SECOND DRAWER. TIP HOLDER INSERT AND HIDDEN RETURN FOR MICROMOTOR CABLE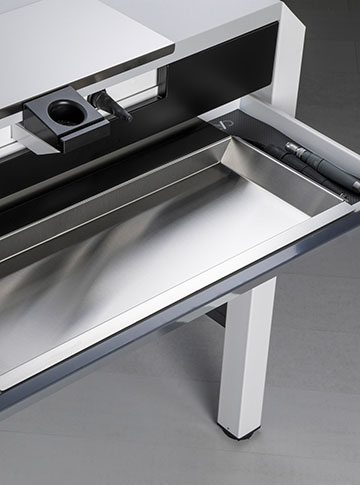 DISCIPLINE KITS APPLICABLE INTERNALLY TO DRAWERS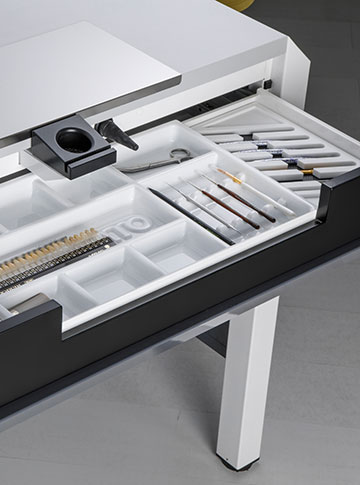 FIXED LED LAMP ON WORKTOP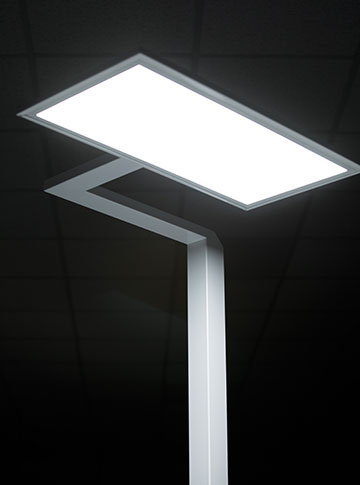 FIXED LED LAMP ON WORKTOP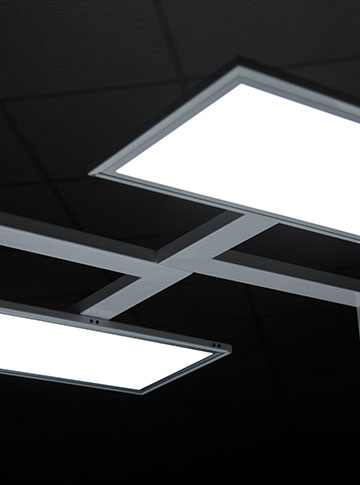 DESIGN SUPPORT STRUCTURE WITH LED LIGHTING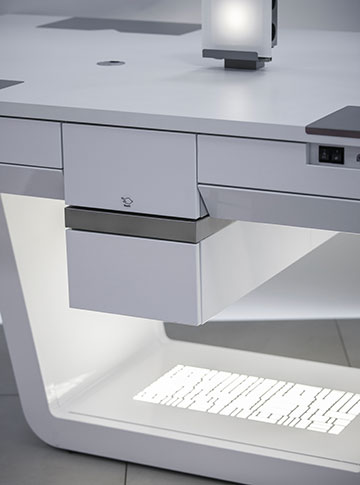 DESIGN SUPPORT STRUCTURE WITH LED LIGHTING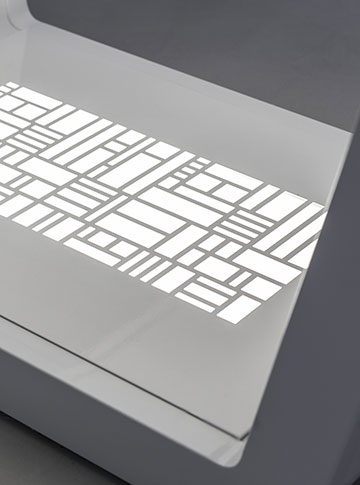 DRAWERS IN LAPITEC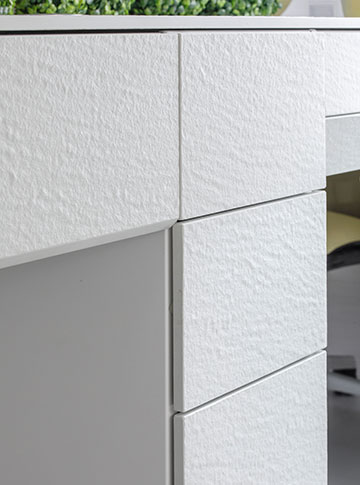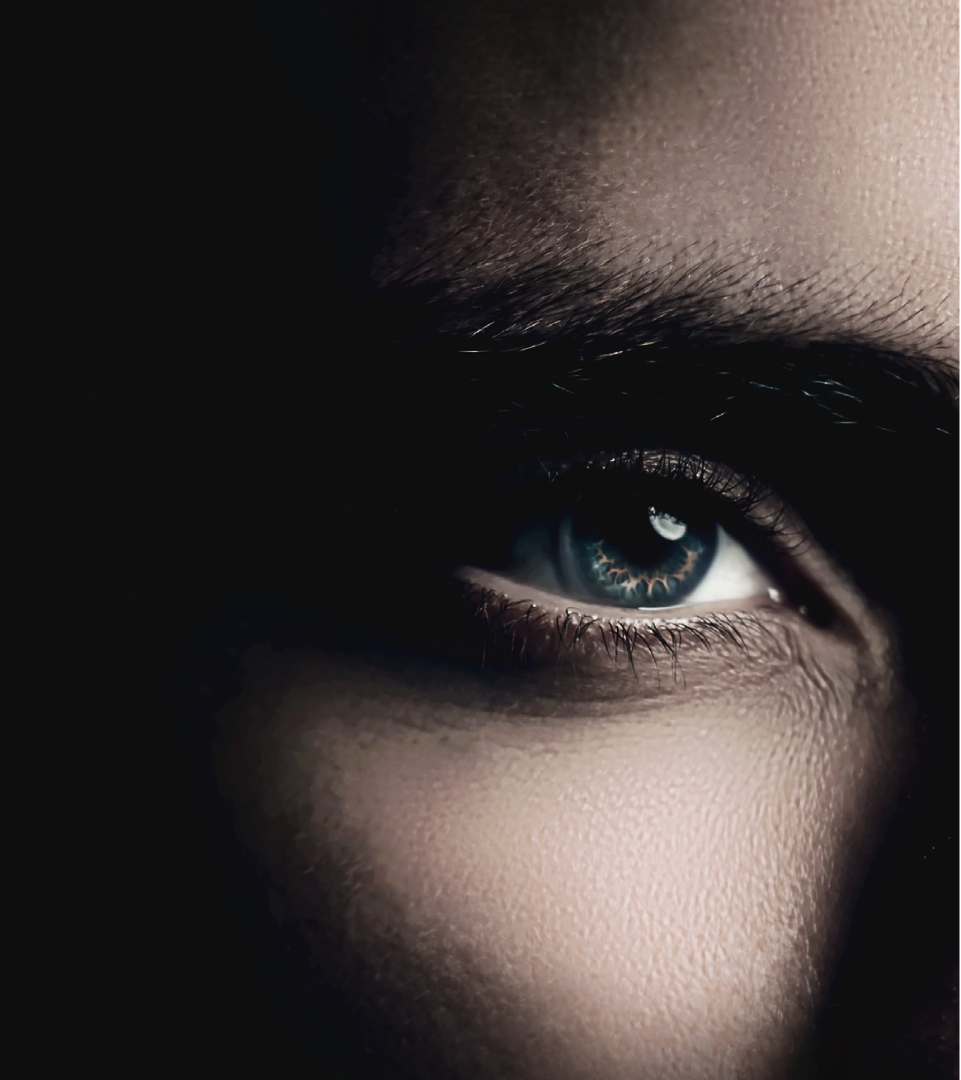 You might also be interested in:
SHARP
SHARP is the collection characterised by great aesthetic and stylistic cleanliness. An essential design behind which lies an extraordinary wealth of detail, the essence of a development focused on the enhancement of the product and its functional content.
Find more on SHARP